If you have ever dreamed about joining the Mile High Club, but the overly strict airline regulations (not to mention the teeny tiny airplane bathrooms) are holding you back, well wait no further. All you have to do it get yourself to Vegas Baby and you are on your way to fulfilling your fantasy!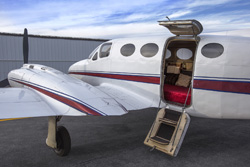 Love Cloud is an exclusive and professional aircraft sightseeing tour company that is located in Las Vegas, Nevada, only they are doing something a little different than all the rest.…

Whether it is for celebrating an anniversary, birthday, Valentines Day, consummating a marriage, special occasion, or just for fun, Love Cloud takes couples up in a twin engine pressurized aircraft around the skies of Las Vegas and allows them to enjoy the mile high fantasy. Our daytime flights consists of a tour of the Red Rock Canyon, Hoover Dam, Lake Meade, and the Las Vegas strip. Our nighttime flights consist of a continuous flight over the beautiful bright lights of Las Vegas and a final low pass of the Las Vegas Strip. A professional and discreet pilot serves every customer the same to make the occasion one that they will never forget. Once airborne and exactly one mile in the air you are free to move around the cabin and do anything your heart desires 🙂
How You Can Join The Mile High Club
When you arrive at the Airport you will be greeted by your very own pilot who will walk you to the aircraft and answer any questions you have. Prior to boarding the aircraft your pilot will explain the simple but essential safety instructions and will give you a full safety briefing. Once on aboard, your pilot will let you know when he is ready to start the aircraft and that it is safe to begin the flight. Seat belts must be worn during taxi, takeoff, and landing. Your pilot will notify you when you and your partner may remove your seat belts.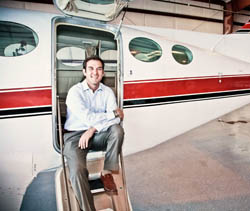 It will only take the pilot 10 to 15 minutes to reach the cruising altitude of 5,280 feet or exactly one mile high above Vegas. At that time, your pilot will notify you that it is safe to remove your safety belts. You and your loved one will remain totally undisturbed for that time and the only thing that you will hear is the hum of the engines.
You have the option of bringing your own playlist of music to play from our wireless sound system or you can pick, choose, and/or create your own playlist of songs from our own Love Cloud music collection. We have provided a comfortable custom-made foam mattress with pillows, cushions and blankets to relax on.
After the flight you will be presented with His and Her Mile High Club VIP Certificate Cards and will then have a photo next to the aircraft so that you have both a picture and card to remember your romantic adventure by.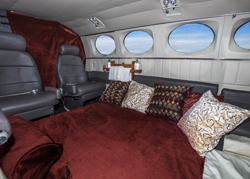 The Love Cloud Aircraft called the "Golden Eagle" is normally a six seat Cessna 421 that is produced by Cessna Aircraft. We have customized it to become a four seat romantic magic carpet that fits to every couples need in the cabin and exceeds any other aircraft in the world. It is equipped with a custom romantic interior which includes a Liberator Heart Wedge and Decor Whirl bolster, JBL Pulse wireless sound/light system, and custom made foam mattress to make your flight extremely comfortable. The aircraft is also equipped with a small lavatory if needed. You and your very own private and discreet pilot are separated by a secure locked curtain door. The pilot is also equipped with a noise canceling headset so that you and your partner have complete privacy throughout the flight.
On the other hand if you are looking for more of a romantic flight and not wanting to go the extent of joining the mile high club then check out their sister site Sky Cloud Vegas, no sex just romance.
So just remember once in the air to sit back… relax… and enjoy your ultimate mile high club fantasy, for more information on Love Cloud, visit their website www.lovecloudvegas.com